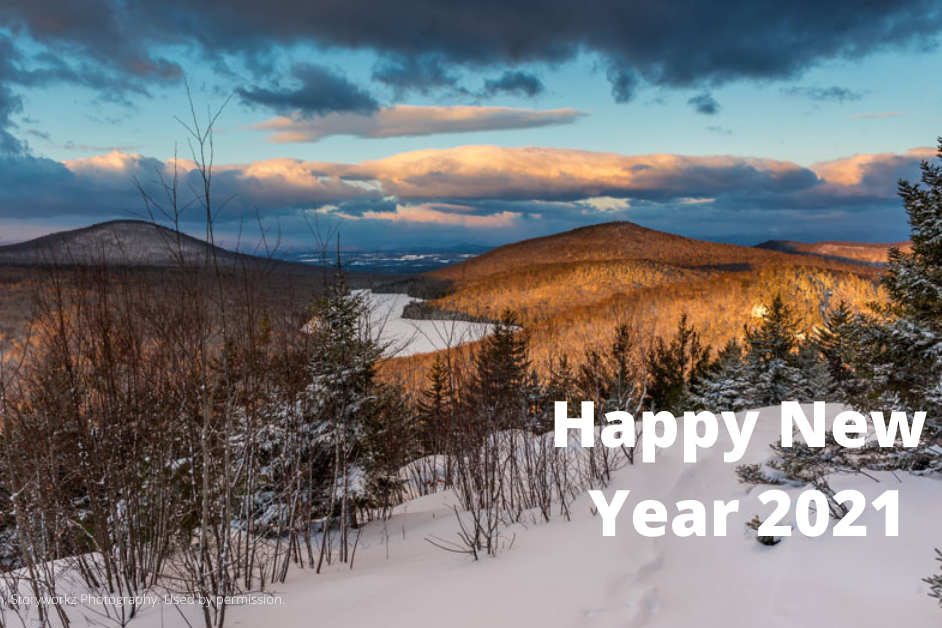 Our attorneys and staff at Biggam Fox Skinner would like to wish all our clients and friends a happy and healthy 2021.

After a year filled with unexpected challenges in 2020, we are looking forward to a smoother ride in the new year. We know it has been an especially tough year for many in our Vermont communities. People have struggled to pay their bills, keep their housing, earn a paycheck, and educate their children. Others have grieved for loved ones or mourned the loss of contact with friends, family, and coworkers. With so much uncertainty and bad news, it was often hard to stay positive from day to day.

Now, as 2021 approaches, we are beginning to see light ahead. We chose this photograph for our 2020 holiday card because it shows the hope and optimism of a new day. Taken at dawn on Owl's Head in Groton Forest, Vermont, it is titled New Year's Day. Thank you to Montpelier photographer, Paul Richardson of Storyworkz Photography, for giving us permission to use it.

We also like these words from the Lord of the Rings that fit the photograph and provide inspiration for the future:
"Even darkness must pass. A new day will come.
And when the sun shines it will shine out the clearer."
J.R.R. Tolkien, The Lord of the Rings: The Two Towers
Even though there is reason to believe that things will improve in 2021, we know that many people are still struggling. Please know that you are not alone. If you need assistance, text the letters "VT" to 741741 to get immediate counseling about any type of crisis or call 2-1-1 to speak with a Vermont Covid Support Counselor. Vermont Legal Aid has a Coronavirus Updates page where they list programs to help Vermonters during the pandemic.
Don't hesitate to contact us at BFS if you have any questions about workers' compensation or personal injury.
Get a FREE Case Evaluation Today
Send us a short message describing your case, and our lawyers will get back to you as soon as possible. Our office hours are Monday–Friday 8:30 a.m.–5:00 p.m.