Kids' Chance of Vermont Funds $71,000 in Scholarships for Children of Injured Workers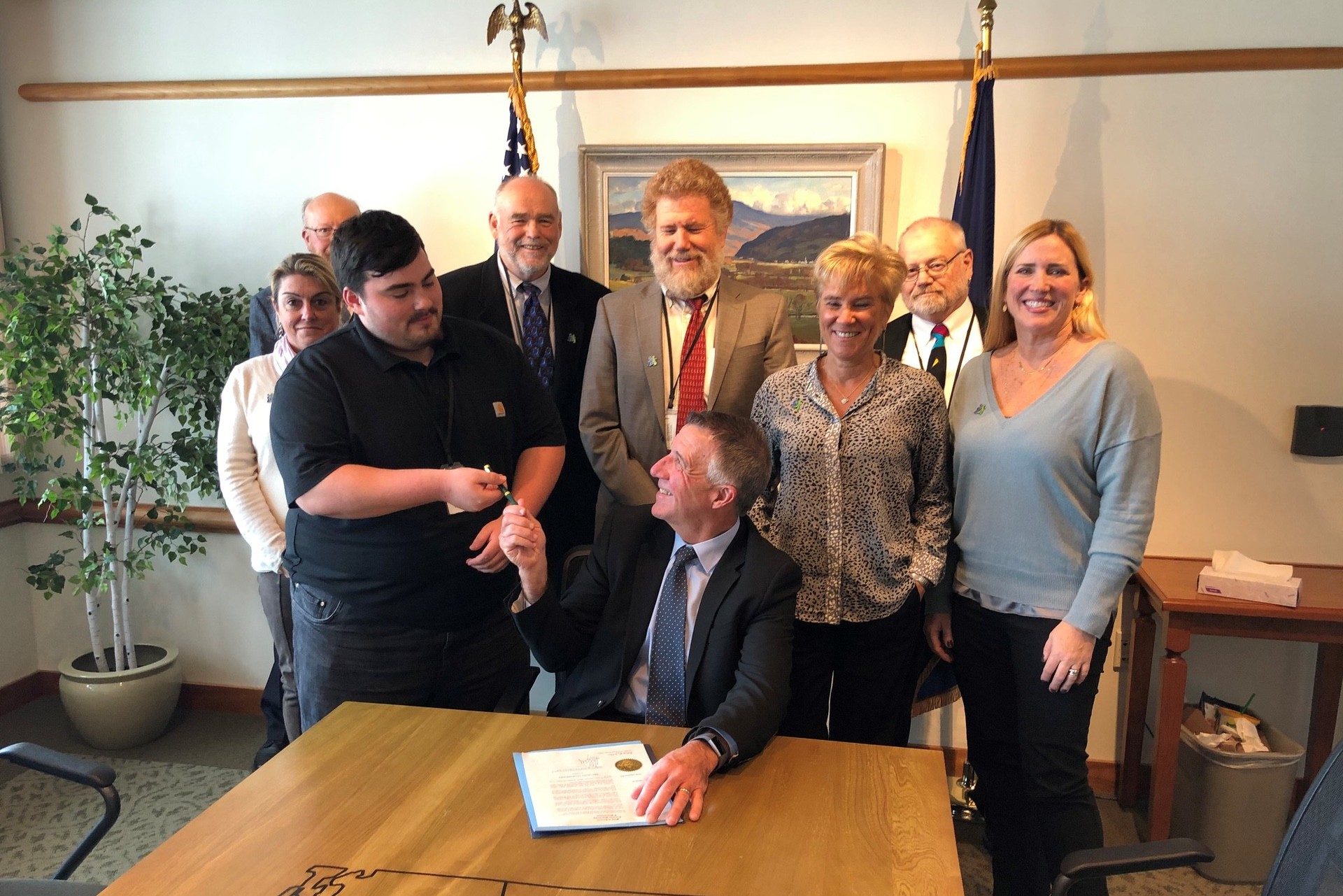 Left to right: Annika Green (Staff Attorney, Dept of Labor), Dirk Anderson (General Counsel, Department of Labor), Chaice Lopez (scholarship recipient for past two years, in Construction Management at VTC), Wayne Sullivan (Board Member Kids' Chance), Keith Kasper (President of Kids' Chance), Governor Phil Scott, Phyllis Phillips (Board Member Kids' Chance), Stephen Monahan (Director of Workers' Compensation, Department of Labor), and Heidi Groff (Vice President of Kids' Chance).
Kids' Chance Awareness Week
November 11-15 is Kids' Chance Awareness Week, and our own Heidi Groff attended Governor Phil Scott's signing of a proclamation about the event.
Kids' Chance is a national non-profit supported by Biggam Fox Skinner that funds scholarships to help the children of injured workers to afford higher education. When a family suffers a dramatic drop in income because a parent gets injured on the job and cannot return to work, paying for the children's higher education often becomes impossible.
Thanks to Kids' Chance, five young Vermonters whose parents suffered on-the-job injuries are now pursuing their college dreams thanks to scholarships worth more than $71,000.
This year's educational scholarship recipients are Rylee Combs of Enosburg Falls, who was awarded $8,400 to pursue a degree in physical sciences, and Vanessa Dumas of Rutland, who received $1,000 to study exercise science at Castleton University. Chaice Lopez of Morrisville had his $12,000 scholarship for engineering at Vermont Technical College renewed for a second year.
Also at the proclamation signing event were Chaice Lopez, together with Kids' Chance of Vermont board members and Department of Labor representatives.
Speaking about Kids' Chance, attorney Groff said, "During Awareness Week, we want to let more people know about the fantastic opportunity that Kids' Chance offers for families to afford higher education for their kids. If you have suffered a serious workplace injury and you have a child at or approaching college age, get in touch with us to see if Kids' Chance can help. E-mail info@bfslaw.com or call us at 1-800-INJURED."
In addition to helping clients with their workers' compensation and personal injury cases, attorney Groff also serves as the vice president of Kids' Chance of Vermont.
Do you have more questions about scholarships from Kids' Chance? Click here to get the answers you are looking for: https://kidschanceofvermont.org/apply.
About Kids' Chance of Vermont
Kids' Chance is a non-profit organization that helps children of injured workers pay for higher education when their families. Since 2014, Kids' Chance of Vermont has awarded seven scholarships totaling over $71,000 to five young Vermonters. Nationally, Kids' Chance of America has awarded 7,300 scholarships totaling $24-million. The average award in 2018 was $4,300. Our legal team at Biggam Fox Skinner LLP is proud to support the excellent work of Kids' Chance.
Get a FREE Case Evaluation Today
Send us a short message describing your case, and our lawyers will get back to you as soon as possible. Our office hours are Monday–Friday 8:30 a.m.–5:00 p.m.