What to Do If You Are Getting Medical Bills While on Workers' Compensation
Medical expenses should be covered by the workers' comp insurance carrier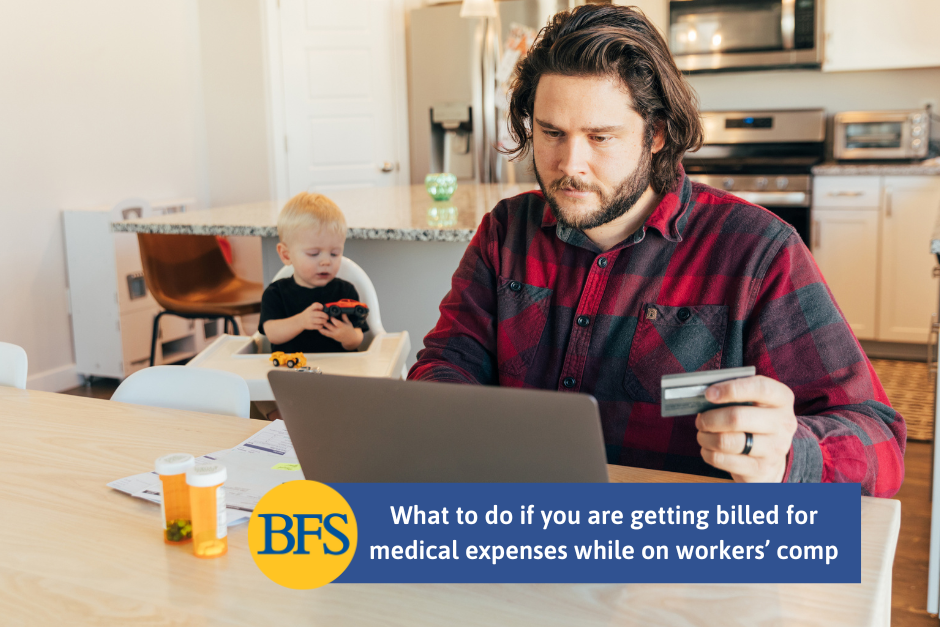 Getting injured at work is stressful enough without worrying about medical bills. Who is responsible for paying them, and what can you do if you are getting bills for medical treatment, supplies, or medications when you have an accepted workers' compensation claim in Vermont?
The short answer is: Medical treatment for an injury at work in Vermont is covered by workers' compensation insurance, even if the injury was no one's fault. The insurance carrier must pay all reasonable, necessary, and related medical bills, including prescriptions, for an injured worker who has an accepted workers' compensation claim. But sometimes things go wrong, and the worker gets billed, which can increase their family's stress at a difficult time.
Our attorneys discuss three common situations and provide guidance on what to do if you are in this situation.

Workers' Comp Is Not Getting the Bills
If bills are being sent to you or your health insurance, the first thing you need to do is call your healthcare provider's office. Make sure they know that you have an accepted workers' compensation claim and that they need to bill the workers' compensation insurer, not your own health insurance. Give them your claim number, the date of your injury, and the insurance adjuster's name, fax number, and phone number. If you are a BFS client, you can find this information on the plastic wallet card we gave you—or call us to get the information if you don't know where to find it.
It is important to communicate with your provider because they can send unpaid bills to collections, which could ruin your credit score. It can take thirty to sixty days to have them rebill workers' compensation and have it taken care of.
Workers' Comp Is Paying, but You Are Still Getting Bills
Sometimes you might continue to get bills even when workers' compensation is already paying. If this happens and you are a client of ours, call your attorney at BFS. We have decades of experience in dealing with insurance companies and can help make sure you are getting the medical benefits you are entitled to.
Workers' Compensation Won't Pay
If you are a BFS client, call us and let us work with the insurance company to straighten it out. Otherwise, get a copy of the bill from your provider and send it to the Vermont Department of Labor, attention Trudy Smith, together with evidence (such as a provider's notes) showing that the treatment was related to your work injury and was billed properly. The department will order the insurance carrier to pay the bill.
Medical Benefits Are Your Right
Getting your medical bills paid is a benefit of having an accepted workers' compensation claim. The workers' compensation insurance company must pay for all your medical expenses, medicines, and medical supplies that are reasonable, necessary, and related to your work injury. This can include surgery, chiropractors, acupuncture, physical therapy, counseling, smoking cessation programs, gym memberships, and even home or vehicle modifications. You should also get reimbursed by the insurance company for mileage to and from your medical appointments and for any parking fees. BFS will fight to get these bills and mileage paid if there is a problem.
This medical benefit is for the rest of your life, even if you change jobs and even if they tell you your case is "closed," so long as you do not have a new injury to the same body part and you have not completely settled your claim (many people falsely believe they have "settled" their claim when they haven't).
Get Help
For a free consultation with an experienced workers' compensation attorney, call or text us at 802-229-5146, fill out the contact form on this page, or Text Us using the blue button on this page. We're here to help!
Get a FREE Case Evaluation Today
Send us a short message describing your case, and our lawyers will get back to you as soon as possible. Our office hours are Monday–Friday 8:30 a.m.–5:00 p.m.