Biggam Fox Skinner Fight Workers' Compensation Rule Changes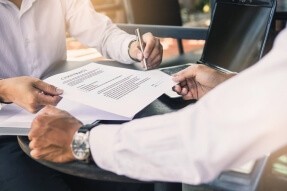 After protests from our Vermont workers' compensation attorneys at Biggam Fox Skinner and other plaintiff lawyers, the State of Vermont has abandoned a proposal to bring in new workers' compensation rules that would have harmed injured workers.
In 2018, Vermont's Department of Labor began a process to change the rules for vocational rehabilitation (VR) services and other workers' compensation benefits. When we heard about the changes that were being proposed, we were concerned. We believed that the changes would limit VR benefits for injured workers and give insurance companies more control in workers' compensation claims. This was unacceptable to us.
VR is an important workers' compensation benefit. If your work injury makes it impossible for you to return to your job or do the type of work you were doing before, you may be found entitled to VR services to help you find a new job at the insurance company's expense. A good VR counselor can help you return to productive work at your previous wage level or as close to it as possible. The proposed rules would have prevented many injured workers from receiving VR help and left them with skills but without an actual job.
Our attorneys worked together with other plaintiff lawyers and VR counselors to object to the proposed changes. All four BFS partners submitted detailed comments outlining their objections. Over the summer, Ron Fox and Kelly Massicotte attended public hearings about the changes. Kelly organized groups of other attorneys and VR counselors to lobby state legislators, especially those from the committee that oversees Vermont's administrative rules.
The Department of Labor (DOL) made some changes to the proposed new rules because of our strong opposition, but we still had three major sticking points that we were not willing to budge on.
First, the DOL wanted to have insurance adjusters instead of VR counselors screen injured workers to see if they were entitled to receive VR benefits. We pointed out that this directly conflicts with the Vermont statute that says screening can only be done by someone who has the right expertise and experience, and who also has no potential conflict of interest. We argued that allowing insurance adjusters to screen injured workers would violate both these safeguards.
Second, the DOL wanted to change a rule that allows an injured worker to choose their own VR counselor at the beginning of the case. Currently, if the insurance company fails to assign you a VR counselor, you can choose one yourself and start the process. Or, if you do get assigned a counselor but are unhappy with the choice, you can change counselors before the process starts. The new rule would have let the insurance company and the DOL decide who to assign and would also have stopped the worker from changing counselors until after the counselor decided whether or not the worker was entitled to VR services. If you got assigned to a bad VR counselor who decided that you were not entitled to VR, it would be almost impossible to overcome this wrong decision.
Finally, the proposed rules would no longer require the VR counselor to find the person a job; they would just have to give the person the skills they would need to return to work. An actual job is needed for an injured worker to return to work, not just job skills.
Our group of plaintiff attorneys and VR counselors continued to let DOL know that the proposed rule changes were unacceptable and not in the best interests of our clients.
Finally, in November, the DOL decided to withdraw their proposal and keep the existing rules in place. We agreed to work with them towards new legislation that will address aspects of the workers' compensation process that are not working well.
This is great news for Vermont workers! We successfully avoided new VR rules that would have made the lives of injured workers harder in an already tough situation. Thank you to attorneys Kelly Massicotte and Ron Fox for not giving up on the goal of fair treatment for injured workers.
For more information about the rule changes, contact our Vermont workers' compensation lawyers at Biggam Fox Skinner today.
Get a FREE Case Evaluation Today
Send us a short message describing your case, and our lawyers will get back to you as soon as possible. Our office hours are Monday–Friday 8:30 a.m.–5:00 p.m.