Biggam Fox Skinner Named A Tier One Workers' Compensation Law Firm in Vermont
U.S. News & World Report and Best Lawyers Release "Best Law Firms" Rankings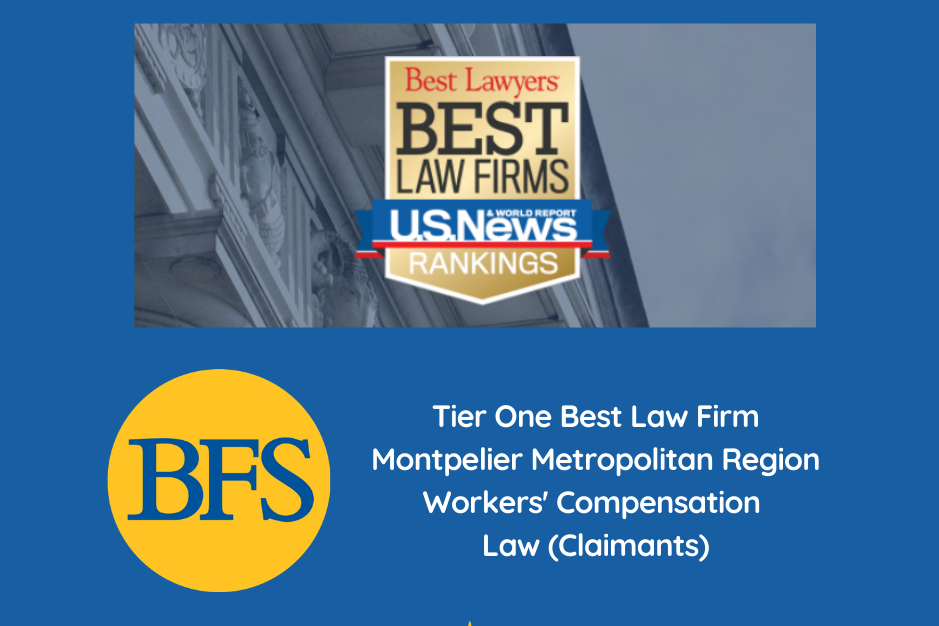 Biggam Fox Skinner has been awarded a Tier One Best Law Firms ranking for our workers' compensation claimants practice. The award was announced in the Best Law Firms report from U.S. News & World Report and Best Lawyers.

We are pleased to share that BFS is one of only four firms in Vermont with a Tier One ranking for Workers' Compensation Law (Claimants). Tier One is the highest level a firm can achieve in the report.

This is an exciting honor that we do not take lightly. According to U.S. News-Best Lawyers, firms who earn a Best Law Firms ranking are recognized for "professional excellence and consistently impressive ratings from clients and peers."

Our team here at BFS does an outstanding job of representing workers' compensation claimants in Vermont. We are extremely proud of our dedication to our clients and our excellent professional reputation that we have built over 40 years.

Thank you to our clients, our attorneys, and our staff for the roles they have all played in helping our firm earn this accolade.
To talk with a workers' compensation lawyer from Biggam Fox Skinner, please contact us online or call us at 802-455-9141.
Get a FREE Case Evaluation Today
Send us a short message describing your case, and our lawyers will get back to you as soon as possible. Our office hours are Monday–Friday 8:30 a.m.–5:00 p.m.