Five Steps To Take After Being Injured At Work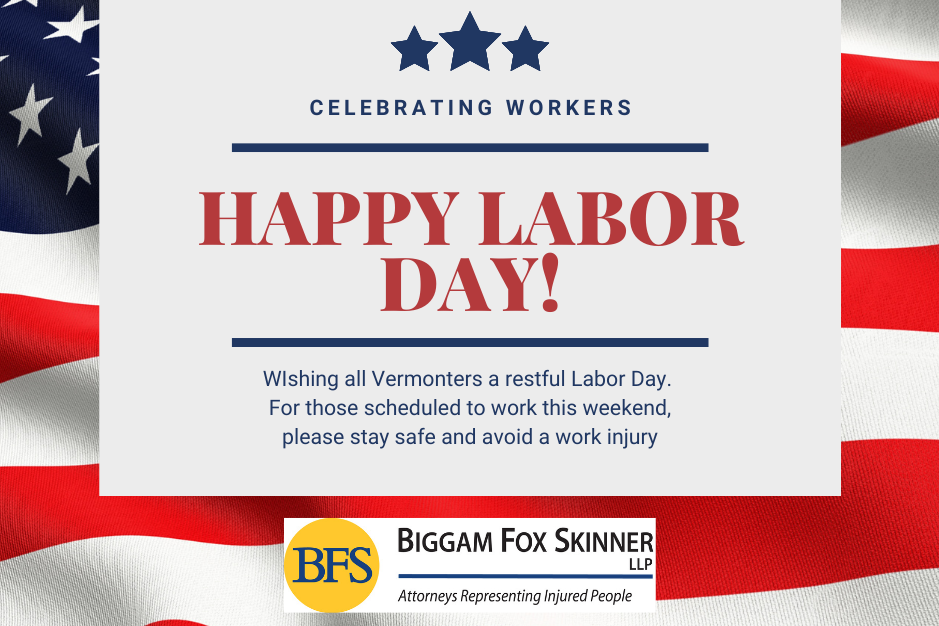 Even with safety measures, injuries in the workplace happen all the time.
No one wants to be hurt at work, especially if it is serious enough to need medical attention or take you out of work. Unfortunately, it's very common, with more than 3 million workplace injuries and illnesses each year.
This Labor Day, we have put together a list of what to do if you are injured at work.
1. Get Medical Help
The first step to take after a workplace injury is to make sure that you are safe. If you can't move anywhere, stay where you are until a medical professional can examine you. Depending on how severely you are injured, you might need to call an ambulance or have someone take you to the ER or urgent care. If your injury is not urgent, you should still see a doctor as soon as possible to make sure that all of your injuries are documented and properly treated.
Your employer might tell you that you have to see a doctor who they choose. This is true for your very first appointment only. After this initial visit, you can see whoever you want to.
2. Report Your Injury to Your Employer
As soon as possible following your injury, you must report your injury to your employer. They may have you fill out an incident report about the accident and your injuries. Be sure to act quickly with this step because, generally, to qualify for workers' compensation you must report your accident as soon as possible, and statistically speaking, the sooner you get your case filed and documented, the better the results. Regardless of how big or small the injury is, don't hesitate to report it. You never know what "minor" injuries may turn into long-term health problems!
3. Document Your Injuries and Any Time Off Work
Create a Medical Record. If possible, take photos of your injury as soon as possible after the accident. The doctor should do a full exam and make notes about the severity of your injury and how it happened. Be sure to tell them that it happened at work. If you don't, it may not be in the doctor's note and you will almost certainly be denied benefits.
Gather Evidence. Keep your own notes about how the injury happened, and how you felt physically and emotionally in the days and weeks afterward. Keep a record of your appointments and your doctors. Your workers' compensation attorney will also gather evidence including any video footage of the accident and eye witness statements when necessary.
Time Off Work. Be sure to carefully document any time you take off work. If you lose time from work because of your injury, you are entitled to lost wages. To claim lost wages, you will need a written doctor's note stating that you are unable to work because of your work-related injury. You will also need a written note if your doctor gives you work restrictions or a light duty release. If your employer cannot or will not accommodate work restrictions prescribed by your doctor, your best option is to call BFS for assistance. We can answer your specific questions about your claim.
4. Be a Good Patient
This is often forgotten, but it is very important to follow your doctor's recommendations for treating your injury.
In Vermont, if you are unhappy with the medical treatment you are getting or if a doctor recommends an invasive treatment that you are unsure about (such as surgery), you have the right to choose another doctor and you have the right to get a second and even a third opinion.
Get Help From a Vermont Workers' Compensation Attorney
Navigating the workers' compensation process by yourself can be challenging. The workers' compensation laws are complex. Your employer's insurance company may attempt to refuse your claim, deny your benefits, or even force you to go back to work before you are healed, which almost always causes more damage. Remember that you do not have to go through the process alone. At BFS, our workers' compensation attorneys are here for you during this difficult time. We won't let the details all through the cracks and we will work hard to help you get what you need to get back on your feet after a workplace injury.
Don't forget that our firm offers free consultations. You don't have to pay us anything upfront and you will never owe us money.
Contact Biggam Fox Skinner at (802) 455-9141 to schedule a time to talk with an attorney.
Get a FREE Case Evaluation Today
Send us a short message describing your case, and our lawyers will get back to you as soon as possible. Our office hours are Monday–Friday 8:30 a.m.–5:00 p.m.