Make Your College Dreams Come True
Apply for a Kids' Chance scholarship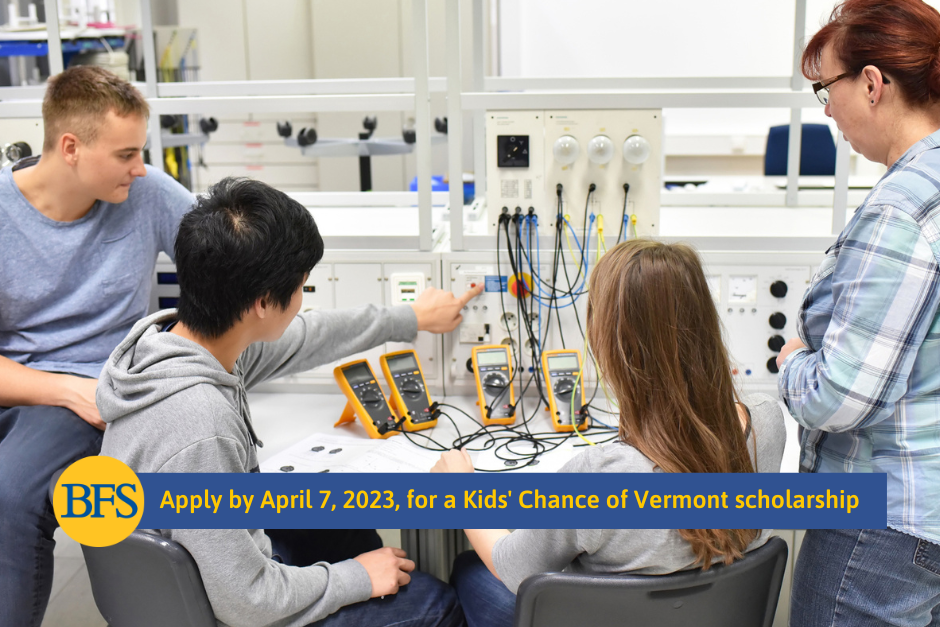 It's the time of year when high school seniors and their parents are thinking about the future. If college or trade school is of interest but money is tight, a scholarship from Kids' Chance of Vermont could be the answer for a student with a parent who was seriously injured at work.
Kids' Chance provides educational scholarships to Vermont students who may not be able to pay for higher education because of a parent's work injury. They have a high award rate, and they are looking for applicants!
Applications for the 2023-2024 school year are now open until April 7, 2023. Go to https://kidschanceofvermont.org/apply to apply.
Kids' Chance is a national nonprofit charity supported by Biggam Fox Skinner and many other organizations. When a parent gets injured on the job and can't return to work right away, their family often suffers a dramatic drop in income and paying for education becomes a struggle or even impossible. A Kids' Chance scholarship helps a family with tuition and other costs related to education.
Since 2014, Kids' Chance of Vermont has awarded more than $120,000 in scholarships to young Vermonters to study engineering, physical therapy, welding, construction management, education, nursing, cosmetology, and more. The average amount awarded to date is $6,700.
Since 2014, Kids' Chance of Vermont has awarded 23 scholarships worth a total of $155,000 to pay for 11 young Vermonters to study physical therapy, education, construction management, physical sciences, welding, culinary arts, hairstyling, and more. The average amount given to young Vermonters to pay for college is $6,725.
Attorney Heidi Groff, who serves as president of Kids' Chance of Vermont, said, "We want to make our clients and our community aware of this fantastic opportunity for families of injured workers to afford higher education for their kids. Kids' Chance's mission is to give money to children of injured workers! You have lost so much due to your injury, let us give something back."
How to Apply
Application forms and further information can be found at https://kidschanceofvermont.org/apply. The deadline to apply for the next school year is April 7, 2023. If you have any questions at all, please contact us at info@bfslaw.com or 802-455-9141.
About Kids' Chance
Kids' Chance is a nonprofit organization that helps children of injured workers pay for higher education when their families cannot. Nationally, Kids' Chance has awarded over 9,300 scholarships worth more than $33 million since 1988. Our team at Biggam Fox Skinner LLP is proud to support the excellent work of Kids' Chance.
Get a FREE Case Evaluation Today
Send us a short message describing your case, and our lawyers will get back to you as soon as possible. Our office hours are Monday–Friday 8:30 a.m.–5:00 p.m.