Vermont Mountaineers Giveaway
Win tickets to the ball field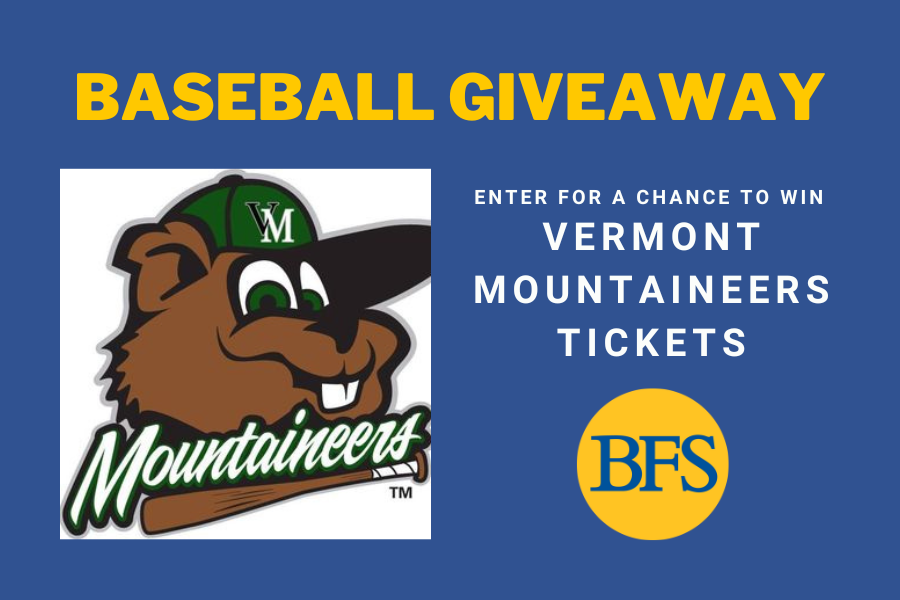 Summer in central Vermont means baseball at the Montpelier Rec Field!
Our local collegiate team, the Vermont Mountaineers, are having an awesome 21st season so far.

To celebrate our support of central Vermont's baseball team, Biggam Fox Skinner is giving away game tickets throughout the season.
How to Enter
To be entered into a drawing to win 2 tickets, email talk@bfslaw.com with the subject line "Mountaineers Giveaway" by 5:00 pm on Friday June 30, 2023 and tell us what you most enjoy about going to a ball game. We will select 5 winners by a random drawing and will notify them by email within one day following selection. Tickets can be mailed to you or picked up at our Montpelier office.
Mountaineers 2023 Season
BFS is proud to sponsor the Mountaineers for a sixth season. The Mountaineers are a member of the New England Collegiate Baseball League (NECBL), which plays in all six New England states and recruits players from top US collegiate baseball programs. A competitive team, they have only missed the postseason twice in their team history. And they enjoy strong community support: attendance at Mountaineers games is in the top three in the NECBL, with an average of 1,400 fans per game.
How You Can Support the Mountaineers
Going to a Mountaineers game is a great community and family experience. Come on out and support them at the Recreation Field on Elm Street in Montpelier! As a volunteer-run organization, they are always grateful for your donation of money or time. Find the 2023 schedule here or stop by our Montpelier office to pick one up.
See you at the ball field!
Giveaway Rules
No purchase is necessary to enter or win.
No cash or other prize substitution is permitted.
Biggam Fox Skinner is not responsible for any winner's failure to receive a notification email. If a winner cannot be contacted or does not claim the prize within two days from the time the award notification email was sent, Biggam Fox Skinner may select an alternative winner.
The giveaway is not open to employees of Biggam Fox Skinner, their immediate family members, or Biggam Fox Skinner's vendors and suppliers.
By participating in this giveaway, you agree to accept the decisions of Biggam Fox Skinner as final and binding as they relate to the content of this giveaway.
Get a FREE Case Evaluation Today
Send us a short message describing your case, and our lawyers will get back to you as soon as possible. Our office hours are Monday–Friday 8:30 a.m.–5:00 p.m.