My Vermont Workers' Compensation Claim was Denied. Now What?
Four Steps to Take If Your Work Injury Claim is Denied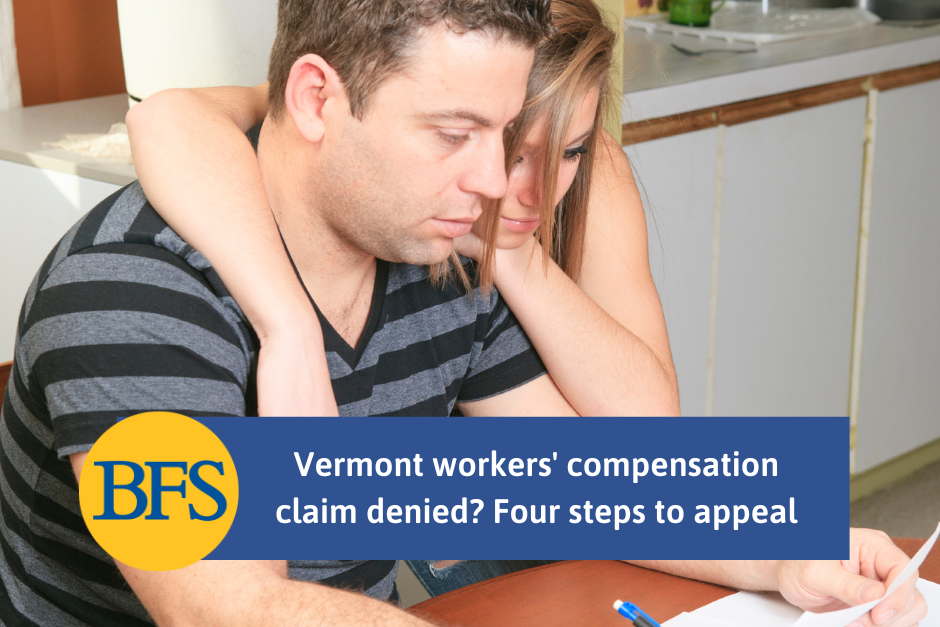 Getting injured at work is often the start of a stressful journey back to health while you also try to navigate the Vermont workers' compensation system. This can be even more challenging if your workers' compensation claim gets denied.
Our lawyers explain the most common reasons for denial and what to do next if this happens to you.
Why Was My Claim Denied?
Vermont's workers' compensation system is meant to help workers and employers deal with workplace injuries in a fair and predictable way. It is a "no-fault" system designed to help injured workers recover and also shield employers from costly lawsuits.
But this system isn't always fair. Even when an injured worker follows all the rules and submits the right forms at the right time with the right supporting evidence, the employer or their insurance carrier may still deny their workers' compensation claim. Some of the most common reasons given for denial are:
The injury was not work-related.
The injured worker did not notify their employer in a timely manner.
The worker's medical records do not support their injury claim.
The worker did not sign the necessary medical authorization forms when asked.
The injury was caused by a pre-existing condition.
Who Benefits When Your Claim is Denied?
Your employer and their insurance company both save money when a workers' compensation claim is denied. Your employer wins because their insurance premium doesn't go up, and the insurance company wins because they don't have to pay you any benefits.
What to Do if Your Workers' Compensation Claim Is Denied
Denial can happen for many reasons and it's important to know that it is not the end of the story. In Vermont, you have the right to appeal a denial of your workers' compensation claim. You should try to appeal the denial as soon as possible, ideally within 30 days.
Here are four steps to take if your workers' compensation claim is denied.
Understand the reason for the denial. Read the denial letter and any attachments to understand the reason given for the denial. The letter will also tell you how to appeal the denial and the deadline for filing your appeal. Although you may be feeling stressed by the denial, remember that you are not alone. At BFS, we know the Vermont workers' compensation system inside and out, and we know how to win benefits for our clients. This is where our experienced workers' compensation lawyers at BFS can help you.
Contact the insurer. Your case may have been denied over something simple like a missing document or signature, or it may be a mistake on the insurance company's part. Either way, it's a good idea to speak with the insurer because there may be an easy solution. However, if the denial was not just because of missing information, or if the insurer doesn't take your call or will not call you back, keep reading.
Try to get the insurer to change their ruling. Asking the insurance company to reconsider their decision is sometimes successful. Usually, you will need to present new information that changes the outcome of your case, as most of the time the insurer will stand by their original denial. This is where it can be helpful to have an experienced workers' compensation attorney on your side who understands the Vermont workers' compensation system and who has experience fighting insurance companies.

Appeal the denial. If your attempt to get the insurance company to reconsider is not successful, your next step is to consider filing an appeal. You should try to do this within 30 days, if possible. Your denial letter will explain how to appeal, but the reality is that appealing a workers' compensation claim denial can be complex. There are many different steps involved and a lot of moving parts that must come together to result in a win. You must prove that you have a valid work injury and that all of your benefits are deserved. It is overwhelming when you are hurt to also try to put together a legal case to win your claim. At this point, it may be helpful to have an experienced lawyer on your side. At BFS, we have been representing injured workers for more than 40 years and we don't charge you anything until your case is won.

Do You Need An Attorney?
Hiring an attorney will ensure that you have the best shot at getting your case paid. Set up a free consultation with one of our attorneys and bring these documents to the meeting.
Here at Biggam Fox Skinner, we offer personalized attention and aggressive representation. First, we listen to you, and then we fight the insurance company for the best possible outcome for you. With decades of experience dealing with insurance companies, we have seen it all and we know all the players. The extensive knowledge we have helps you win your case, protecting you and your family's financial future.
Don't do it all alone, we are here for you. Call (802) 229-5146 for a free consultation about your claim.
Get a FREE Case Evaluation Today
Send us a short message describing your case, and our lawyers will get back to you as soon as possible. Our office hours are Monday–Friday 8:30 a.m.–5:00 p.m.