On Workers' Memorial Day, Remember the Dead and Fight For the Living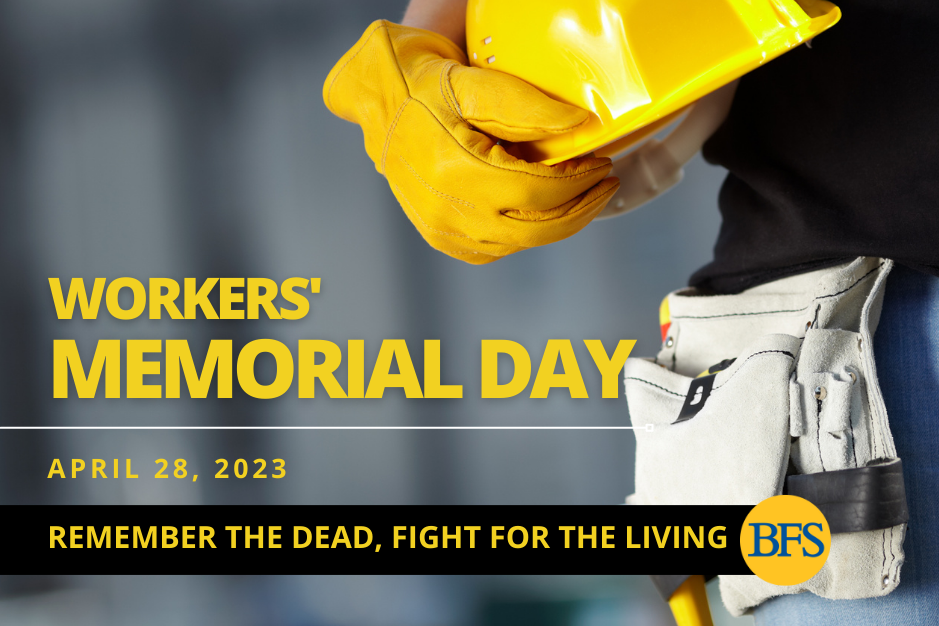 On April 28, we mark Workers' Memorial Day by remembering and honoring Vermonters who have been killed or injured at work.
What is Workers' Memorial Day?
Vermont workplaces reported 10 fatalities and over 7,000 injuries in 2021. Throughout the United States, a worker died every 101 minutes in 2021 from a work-related injury (Bureau of Labor Statistics, U.S. Department of Labor). On Workers' Memorial Day, we remember these workers and pay tribute to them and their families.
Families of injured workers always face a drop in income that can result in financial hardship if their family member is killed, needs to take time off work to heal, or is so severely injured that they can't return to work at all. To support these workers and their families, BFS donates to Kids' Chance of Vermont, a charity that provides educational scholarships to children of seriously injured or deceased workers. Attorney Heidi Groff is currently President and attorney Kelly Massicotte is the incoming Treasurer.
Let's Make a Difference
You can help us observe Workers' Memorial Day by telling others about this opportunity. Since 2014, Kids' Chance of Vermont has awarded a total of $155,000 to 11 young Vermonters to help them study physical therapy, education, construction management, physical sciences, welding, culinary arts, hairstyling, and more. If you know an injured worker with school-aged children, please put them in touch with us. Even if the children are not old enough yet for post-secondary education, Kids' Chance can stay in touch and help them plan for the future.
We also make a difference by spreading information and awareness about workers' rights and the importance of workplace safety. Our blog provides answers to frequently asked questions about issues such as what to do if you get injured at work, how to appeal a workers' compensation claim denial, and what medical treatments workers' compensation must pay for. Our attorneys always provide free consultations to help injured workers or their families evaluate their case and decide on the next steps. Knowledge is power and informing workers or their families about the support and benefits they are entitled to empowers them and their families when they are facing significant challenges.
Biggam Fox Skinner is here to help. Talk to our workers' compensation lawyers for free by texting or calling 802-229-5146 today or filling out a contact form.
Get a FREE Case Evaluation Today
Send us a short message describing your case, and our lawyers will get back to you as soon as possible. Our office hours are Monday–Friday 8:30 a.m.–5:00 p.m.